Focus on the electric boat
03 / 07 / 2020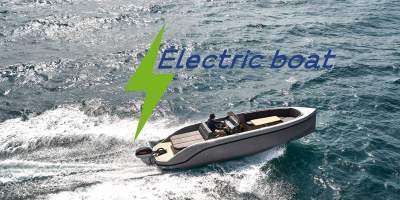 What are the advantages of electric power? 
No direct pollution (no discharge into the air and water)
Respect for marine fauna and flora
Silent navigation
The electric motor is economical and easy to maintain
What about the hybrid in all this? 
A so-called "hybrid" propulsion system combines several modes of electricity production to which photovoltaic panels can be added as an additional source of energy. Hybrid propulsion with a combustion engine and batteries is the most common form of hybridisation to date. Hybrid propulsion can be in series or in parallel: A diesel-battery hybridisation is said to be in series only if the propeller is always driven by the electric motor, with the internal combustion engine being used to recharge the battery pack. A parallel diesel-battery drive draws its energy source directly from the propeller shaft, which can be driven either by an internal combustion engine or an electric motor. 
How can I reload my boat? 
The initiatives are numerous, and should develop rapidly as interest in the electric boat is growing...

Specific installations can be studied by bringing together the Harbour Master's office of your port and the electric boat builder. But chargers available to all are being installed on the French coast...

For example, the English start-up Vita Power - created in 2017 - is installing a network of "super chargers" (Vita superPower™) on the Côte d'Azur. As in the automotive sector, the charging network is an essential prerequisite for the development of electric boating. These investments on the part of the port authorities are therefore to be encouraged!

The batteries...

There are different batteries, mainly designated by the different chemical compounds that allow the reactions leading to the production of electrical energy:

Lead (Pb) batteries
Nickel-cadium (Ni/Cd) batteries also found in the
marine electric mobility
Lithium batteries (ions or iron-phosphate, LiFePO4)
The super capacitor is a capacitor that allows to store a quantity of energy between that of the batteries and capacitors, but to be recharged more than that of the quickly than a battery.
Implantation of Vita Power chargers in 2020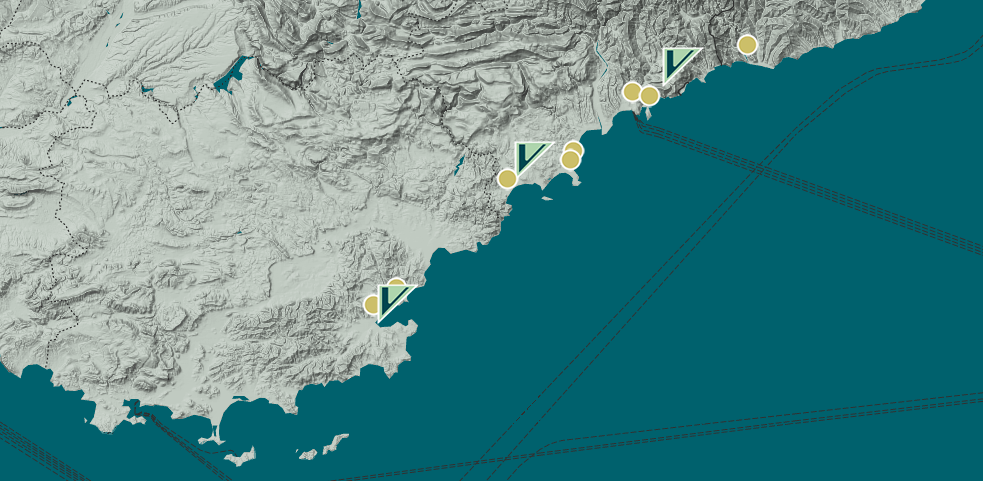 French Electric Boat Association
| | |
| --- | --- |
| This is precisely the objective of the "Association Française du Bateau Électrique" (AFBE): to call on the Government to opt for a green recovery resolutely oriented towards the energy and ecological transition. This must be translated into mass support for the electrification of boats and ships to revive the French industry. Electric propulsion can meet the economic and ecological challenges we face, while enabling France to become a leader in this fast-growing, job-creating industry. | |
The AFBE stresses that the stimulus measures must be implemented with a long-term perspective not only to promote economic recovery, but also to ensure a transition to zero-emission boating.
Several European cities or countries have already taken strong decisions to convert their fleets to zero-emission mode, such as passenger shipping in Norway, Denmark, Sweden, Finland, or inland waterway transport in Amsterdam, for example. These strong decisions create a cleaner industry and develop the local economy. Some countries have started to take the lead in electrification, a global market estimated at several billions in Europe.
Thus, the AFBE would like France to maintain its leadership in the naval and nautical sectors by making a transition as quickly as possible towards decarbonation on the waters. It hopes that the Government will offer all the support it can for these objectives.
The AFBE's proposals to the government?
1. Facilitating the acquisition of electric and plug-in hybrid boats by companies in the sector
Extend the surcharge for maritime and inland waterway mobility operators to all electric and plug-in hybrid ships and boats.
Exempt VAT for electric recharging services.
2. Facilitate the transition of boaters to clean mobility
Reinforce the plan of 1% of port places reserved for electric boats over 2 years, by supplementing it with a request to create 5% of port places reserved for electric boats within the next five years.
Introduce a bonus per KW installed in order to encourage yachtsmen to migrate towards non-polluting propulsion systems by compensating for part of the extra cost.
3. Promote zero-emission spaces
Establish zero-emission shipping areas within urban areas, biodiversity protection zones and national parks.
4. Supporting local and regional authorities
Encourage the deployment of the use of electric or plug-in hybrid boats and ships on public fleets or fleets operated under public service delegation.
---
The performance of the RAND Leisure 28 in electric...
Powered by a 155/240 kW Inboard E-Drive 155/240 kW Sterndrive engine with lithium batteries, the Leisure 28 climbs up to 40 knots in top speed, enough to delight performance enthusiasts!
In terms of autonomy, the Leisure 28 can sail for up to 2 hours at cruising speed (19 knots), the unit then switches to economy mode at 7 knots for the return to port...
The most powerful model is equipped with 94kWh lithium batteries...
...The advantages of these batteries are numerous: 
They can withstand high intensity discharges
They have a long lifespan 
They have a high energy density
They are very robust.
The Leisure 28 is also available with a hybrid engine, as well as the traditional petrol and diesel engines, if electric doesn't fit - not yet - your navigation programme...
---
To find out more:
AFBE : www.bateau-electrique.com
Vita superPower™ : vita-power.com
RAND Boats : randboats.com.