Launch of RAND Boats Source 22
15 / 09 / 2022
It was during the Cannes Yachting Festival 2022 that RAND Boats unveiled one of its latest innovative 22-foot models, also available in an electric version: the Source 22.
This boat with a clean and versatile design is build by the Danish shipyard RAND, which specializes in the construction of sustainable and ecological electric boats.
Measuring 6.7 meters long and having a capacity of up to 8 people on board, the Source 22 is ideal for enjoying a day outing with the family, going on coastal cruises or even having a fishing session.
The Source 22 is available in inboard / outboard, thermal or electric versions. In the electric version, the engine is powered by high quality lithium batteries, which can be recharged through a standard shore socket or a fast charging station, which makes it ideal for navigation in protected areas and sensitive ecological areas.
Its design is both elegant and functional (Winner of the German Design Award 2023 and Best of Boat 2022), with all the now well-known tricks about this brand:
> Wraparound and convertible pilot seat backs:
> Tilting rear seatbacks for sunbathing:


> Bimini compass stowed under the sunpads: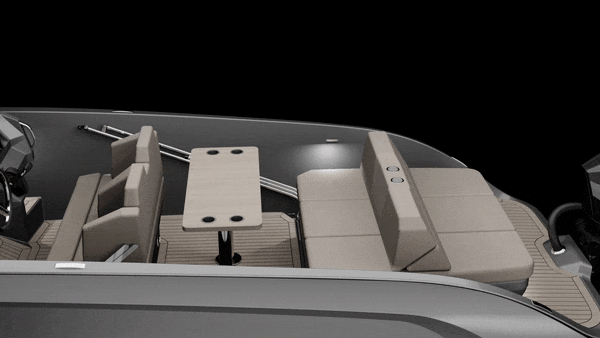 The deck of the boat is also equipped with a folding table, a floor covering in Flexiteek and a large storage space (1000 liter trunk at the front, and 1000 liters at the rear in the outboard version) for nautical equipment or luggage.
In summary, the Source 22 is a versatile, functional, ecological and design boat, ideal for enjoying time spent with the family or doing water activities along the coast. With its elegant design and safety equipment, it is perfect for boat enthusiasts who want to navigate safely and with complete peace of mind. If you are looking for a durable and versatile electric boat, the Source 22 from RAND Boats is an option worth seriously considering!
Engines offered:
POWER SERIES - Inboards
- Mercruiser 4.5L-250 HP Bravo 1
- Mercury Diesel 2.0L-170 HP Bravo 1
POWER SERIES - Outboard
- Mercury F 150
- Mercury V6 F200
- Mercury V8 F250
ELECTRIC SERIES - Inboard & Outboard
- E-Drive 170 kW w. 78kWh Lithium Batteries
- Torqeedo Deep Blue 50 incl. 40kWh BMW i3 Lithium Battery Outboard Electric
For more information, contact us!
DISCOVER THE SOURCE 22