Launch of the RAND Breeze 20!
27 / 01 / 2023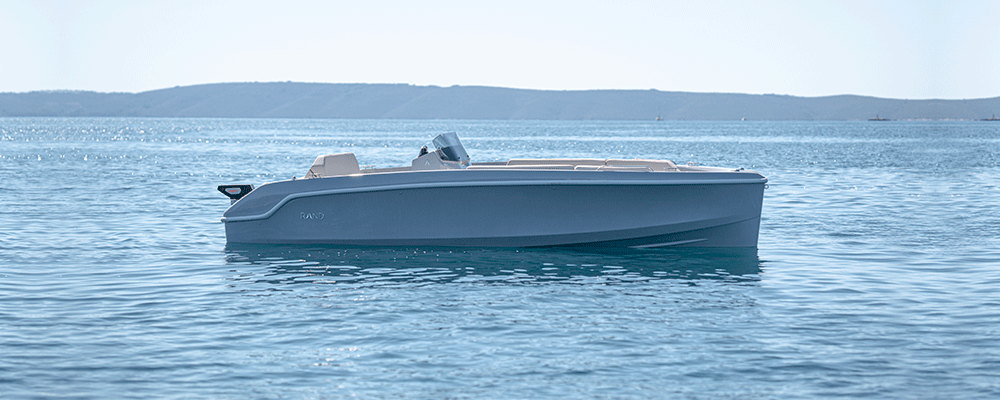 Another innovation for the Danish brand RAND Boats!
After the presentation of the Source 22 in September 2022 during the Cannes Yachting Festival, RAND Boats presents a smaller model and also available in an electric version, at one of the largest shows in Europe - the Boot Düsseldorf - in the month of January 2023: the Breeze 20.
The Breeze 20 is a luxurious boat that prioritizes ease of use without compromising functionality, comfort or performance. Its clever design revolves around a central picnic table that can be transformed into a spacious sunbathing area, allowing for maximum relaxation and enjoyment. In addition, the boat has other practical features such as a folding pilot backrest, generous storage compartments, an integrated refrigerator and a concealed bimini that offer great flexibility to adapt the boat to your needs during your sea trips. At 6 meters long and only 595 kg, the Breeze 20 can be towed behind any car. This makes the boat very easy to transport!
The engines available for the Breeze 20 meet all navigation programs:
POWER SERIES - Outboard
Mercury F 30 ELPT EFI Outboard
Mercury F 60 EXLPT SeaPro Outboard
Mercury F 115 EXLPT EFI Outboard
ELECTRIC SERIES - HB / Inboard
Torqeedo Cruise 6.0 Outboard incl. 7kWh Lithium Battery Electric
Torqeedo Cruise 12 Outboard incl. 10kWh Lithium Battery Electric
Torqeedo Cruise 6.0 Inboard incl. 7kWh Lithium Battery Electric
The 115 HP outboard petrol engine offers a top speed of over 30 knots, making it suitable for use in water sports. With RAND's simple boating philosophy, this version of the Breeze 20 is perfect for first-time boat buyers!
As for the autonomy of the Breeze 20 in the electric version, we are impatiently awaiting the first tests that we will not fail to communicate to you!
More technical details and prices of the Breeze 20 here: Breeze 20
Do not hesitate to contact us to schedule a visit!