Retrospective of Port d'Hiver Yachting shipyard 2022
03 / 01 / 2023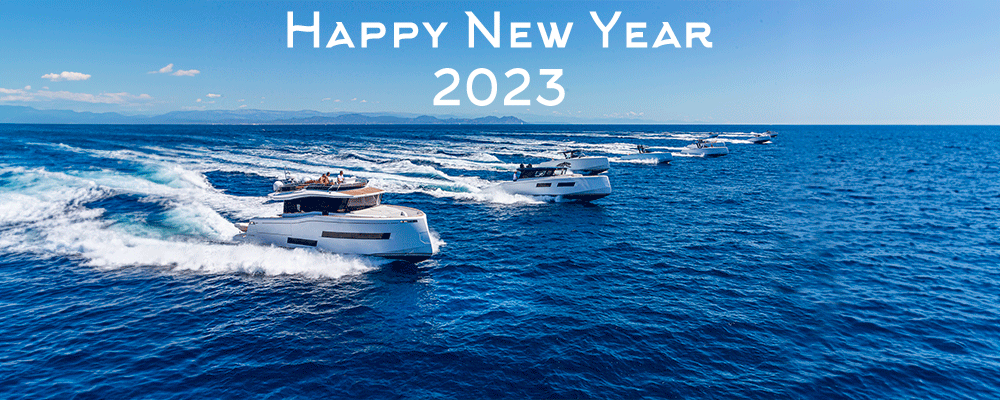 The Port d'Hiver Yachting team sends you its best wishes for 2023!
May this year be even richer in beautiful moments spent at sea and in new products.
This is also an opportunity to look back on the performance of the Port d'Hiver Yachting shipyard over the past year. Between our boat sales, our boat maintenance services, the wintering of our boats and our events, our shipyard has achieved great results and has maintained its reputation on the French Riviera (Alpes Maritimes (06) and Var (83)) and particularly in Bormes-les-Mimosas.
A GREAT PERFORMANCE

This year was once again a great success for the Port d'Hiver Yachting shipyard with:

30+ new boats sold
15+ second-hand boats sold
100+ boats under management
110+ boat transports and launches
A TECHNICAL TEAM TRAINED TO IMPROVE THE QUALITY OF OUR WORKSHOP SERVICES

Throughout the year, our technical team is trained in the latest nautical equipment that we offer to install on your boat.

VOLVO: New assisted docking software and EVC 2.0, new D4, IPS 10...
QUICK: Gyroscopic Stabilizer Certification (QUICK GYRO Authorized Dealer), allowing us to commission and maintain stabilizers.
BESENZONI: Training for the sale and maintenance of their range of nautical equipment.
OUR EXHIBITIONS
Since the beginning of the season, we have had the pleasure of presenting our brands at exhibitions and fairs such as :
NEW MODELS

The year 2022 was also synonymous with novelty, with the unveiling of four new models among our brands:

These models are still available for the 2023 season at Port d'Hiver Yachting.

If you're interested in one of those models, contact us.
BRANDS NEWS
NEW PHANTOM 65 WINS WORLD YACHT TROPHIES

This year's World Yachts Trophies were held during the Cannes Yachting Festival.
At this event, the brand new Phantom 65 from Fairline Yachts won the Best Exterior Design Award.
A great award that promises a bright future for the latest Fairline Yachts model.
THE NEW SOURCE 22 WINS OVER THE JURY OF THE BEST OF BOATS AWARDS

At the ceremony, which took place during Boat & Fun Berlin, the Source 22 from Rand Boats showed its strengths, particularly in terms of on-board ergonomics and environmental friendliness by offering an electric version. The latest model from the Danish brand won the Best for Fun category.
2 NOMINATIONS FOR THE EUROPEAN POWERBOATS AWARD 2023

Rand Boats and Pardo Yachts have had their new models nominated for the European Powerboats Award 2023.
The Rand Source 22 will compete in the up to 8 metre category and the Pardo GT52 in the up to 20 metre category.