The Fairline Targa 45 GT high Commended by Motor Boat Awards 2022
26 / 01 / 2022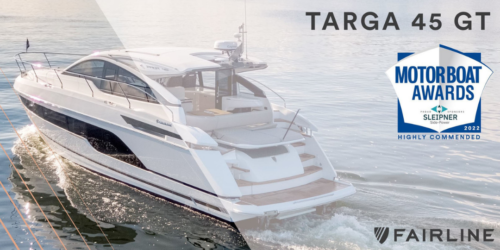 What is the Motor Boat Awards ?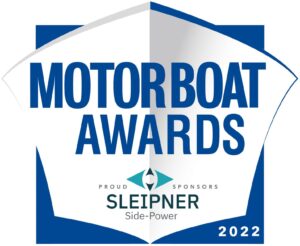 The Motor Boat Awards is an international award recognized in the nautical world. This prize, created by the British magazine Motor Boat & Yachting, allows to highlight and to reward last motor boats models.
The election of those boats is established in two times. The preselection of nominees is made using the votes of Internet users. Then, a jury chooses the finalists and then the winners.
The boats fall into the ten categories offered:
Sportsboats up to 30ft - Sportsboats over 30ft - SUV's - Sportscruisers up to 45ft - Sportscruisers up to 45ft - Flybridges up to 60ft - Flybridges up to 60ft - Custom Yachts - Judge's Special award - Customer service award.
Two Fairline models selected among the finalists
During first election steps, two models of Fairline boats stand out : the Targa 45 GT ("Sportscruisers up to 45ft" category) and the F//line 33 Outboard ("Sportsboats up to 30ft" category). So, these lattern become finalists following the first jury's selection.
After the announcement of the cancellation of the Boot Düsseldorf boat show (scheduled for January 22-30, 2022), the reveal of the winners took place online (Tuesday January 25, 2022 at 5:00 p.m.).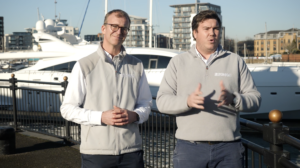 The online ceremony was hosted by Hugo Andreae - Motor Boat & Yachting Editor and Jack Haines - Motor Boat & Yachting Deputy Editor.
Following this, we are happy to announce that the Fairline Targa 45 GT is Highly Commended by the magazine. Indeed, this distinction comes in second place after the prize of the winner of the chosen category..
The jury congratulates Fairline for mastering its know-how. Also, the Targa 45 GT is highly appreciated for its quality, attention to detail and its impressive hull.
A beautiful reference that confirms the quality of Fairline boats and their modern design.